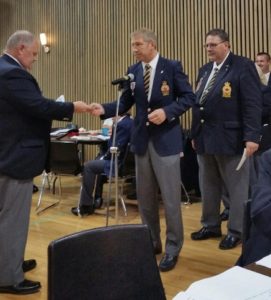 At the recent Ontario regional convention of the Royal Canadian Legion, members of Bala Legion Branch 424, President Royce Jarick, Ross Smith, Greig Foord and Fred Orchard presented a $2,000 donation in support of Operation: Leave the Streets Behind.This initiative is a Royal Canadian Legion program whose mission is "To ensure that every veteran who is homeless or near homeless finds the help they need to leave the streets behind."
Through this program, homeless veterans receive rental assistance and help to ensure they have suitable and stable housing as well as medical assistance in the form of dental and vision assistance.To learn more about Operation: Leave the Streets Behind, please visit http://www.on.legion.ca/vetera…/homeless-veterans-assistance.
We're sharing this with you today to thank you for supporting Bala Branch 424 during our 70th Anniversary Concert Series: with your help, your Bala Legion is able to support some of the most vulnerable people in our community — homeless veterans who have already given us all so much.
Thank you so much for caring and for supporting your Legion!
We're looking forward to seeing you at the Cranberry Festival on Saturday and Sunday for breakfast at the Legion from 9 am onwards.