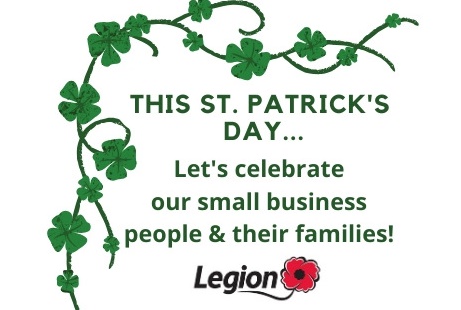 Saturday, March 14th starting at 12 pm at Bala Branch 424
Muskoka is one of Canada's most-celebrated places to live and visit. This St Patrick's Day, at the Bala Legion, we want to honour all the small business people who make our Muskoka experience possible.

These are the members of our community who own and work at businesses that may not always be recognised as important. They clean, build, repair, and maintain our cottages and homes. We will be hosting a 12 hour drop in community extravaganza starting at 12 pm on Saturday, March 14th 2020..

There will be draws for meat, concert tickets, and Leafs tickets along with food and live music from our friends, The High Rollers, who are back by popular demand. Tickets are $25 per person and available through Eventbrite. Limited to 300 tickets.

Please remember Branch 424 is committed to the National Unity exchange program at Glen Orchard Public School. A portion of the proceeds of this event will go to supporting Glen Orchard students.

Join us in recognizing our community's small business peoples and their families!

Thank you for supporting Branch 424.