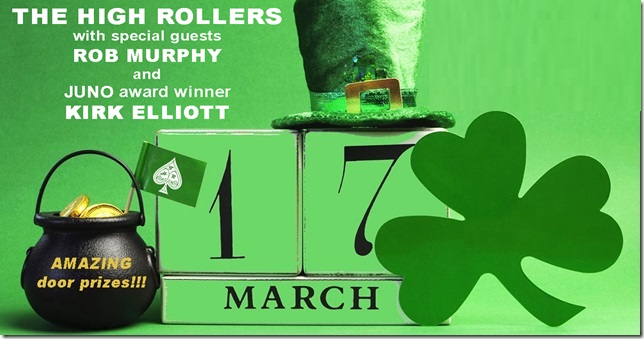 Royal Canadian Legion Bala Branch 424 St. Patrick's Day Event  – Saturday, March 17, 2018
If you haven't purchased your tickets already, please do so as soon as you can. They're available at Eventbrite or at the Bala Legion. Limited seating for 150 people! 
Your $10 ticket includes the following: 
DINNER (served between the hours of 5:00PM to 7:00PM)
Choice of Irish Stew or Corn Beef & Cabbage
ENTERTAINMENT
The High Rollers with special guests, Rob Murphy, and Juno Award Winner Kirk Elliott
Recitations throughout the evening courtesy of Toronto poet, Michael Furey
RAFFLE
Chance to win Airfare only for 2 to Dublin, IRELAND
TO PARTICIPATE, HAND IN YOUR PAID TICKET AFTER DINNER and please make sure the back of your ticket is clearly filled out with your name, address, phone and email
The raffle will take place at 9pm
SPONSORS
Tourism Ireland
Labatt Breweries of Canada
TICKETS are only $10, available online at Eventbrite, at the door, and can also be purchased in advance at the BALA LEGION
Buy your tickets online at Eventbrite today!
Click here to buy your tickets
Looking forward to seeing you on March 17th!
Thank you for your support,
Dennis Mills
Membership Chair